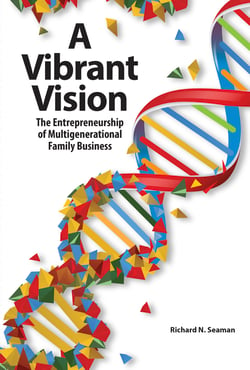 Wooster OH [May 28, 2019] – A new book has been released by Richard Seaman, Chairman of the Seaman Corporation, a family-owned industrial coated fabrics manufacturer. The book, A VIBRANT VISION, draws on Richard's experience growing Seaman Corporation from $10 million in annual sales in 1978 to the multi-million-dollar company it is today. He draws on his 40+ years of experience to inspire business owners to apply the fundamentals of entrepreneurship and proven business practices to create and grow their own sustainable multi-generational family business.

The decision to grow a small privately held family business into a sustainable multi-million-dollar business to be passed to successive generations contrasts sharply with today's "harvest your business" or lifestyle business mentality. Executing this vision requires: business processes that support innovation; human capital development; strategic planning; quality assurance in manufacturing and service; governance excellence; as well as education and stewardship of future family shareholders.
Richard explores each of these fundamental tenets of sustainable family business ownership in-depth. He combines anecdotes and learnings from his decades as CEO with data and best practices from a variety of industry professionals to create a compelling call-to-action: we must value our family businesses for the treasures they are.
---
"A VIBRANT VISION lays out a path for visionary entrepreneurs to build not only successful, sustainable businesses but also BE a force for good while still participating vigorously in a market-based society." - Daniel Isenberg, Executive Director of the Babson Entrepreneurship Executive Project
"APPLYING THE LESSONS of this insightful, engrossing book – based on Seaman's own family business experience – will greatly increase your chances for multi-generational success." - Teresa Amabile, Professor at Harvard Business School
---

ABOUT THE AUTHOR
Richard Seaman is the Chairman of Seaman Corporation, where he served as CEO from 1976 to 2015. Richard serves as a Trustee of the Burton D. Morgan Foundation, is a former Commissioner of the Ohio Third Frontier, a member of the Young President's Organization and a Director of the Family Business Network-USA. He and his wife, Judy, live in Wooster, OH.
For further information, visit www.vibrant-vision.com or contact Ammey Frank at 330-202-4490