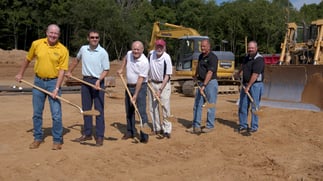 WOOSTER, Ohio [August 2017] – A groundbreaking ceremony was conducted on Tuesday August 1 for Wooster's new, state-of-the-art tennis facility on Venture Boulevard. On hand to commemorate the day were Richard Seaman, Chairman of Seaman Corporation; Daniel Tzonev, Asset Investment Manager and Aspen Racquet Club's President; Ken Chaloupek of Seaman Corporation; and Dan Freeman, Gary Gantz, and Craig Sanders of Freeman Building Systems.
The Aspen Racquet Club construction is now well underway and the club is expected to be completed and available for play during the upcoming winter season. The recent rain and permitting process caused some early delays in the start of construction but it is now an active construction site. During this delay period, time was spent conducting additional research and facility planning. Visits have been made to a number of indoor tennis facilities in Ohio, North Carolina, Illinois, Florida, and Virginia. It also involved a visit to the United States Tennis Association new tennis training facility in Orlando, FL which consists of more than 100 tennis courts featuring a wide variety of playing surfaces.
The Aspen Racquet Club will feature various products manufactured by Seaman Corporation. The facility will be protected by a FiberTite high performance roof, featuring a simulated metal roofing system. The potential of using solar panels is under consideration to help support the energy costs of the facility. Additionally, Seaman Corporation tennis court backdrop curtain fabric will be featured inside. An interior design architect is actively working to enhance the quality of the reception area, locker rooms, and mezzanine observation area.
"During our exploratory visits at indoor tennis facilities in Northeast Ohio, we found a tremendous amount of enthusiasm and support for our project in Wooster," said Richard Seaman. "Facility owners viewed us as a positive catalyst for continuing to grow the tennis community in Northeast Ohio."
"Now that construction is well under way, our next milestone is to identify a director of tennis for the Aspen Racquet Club. We are actively interviewing candidates and hope to make a decision in the near future. This will allow us to focus on creating programming and cultivating a vibrant tennis community in the Wooster area. The support of the local community so far has been overwhelming," added Daniel Tzonev.
For more information about the Aspen Racquet Club, please visit www.ARCWooster.com.