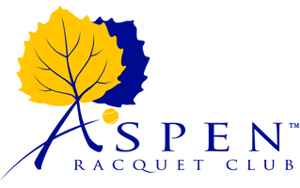 Located approximately 60 miles south of Cleveland, Ohio, Wooster is constantly rated as one of the most desirable places in the state to live. With a population of 27,000, the community was served for forty years by a local racquet club with four courts. When this facility closed the Wooster tennis community needed a new facility. Richard Seaman, Chairman of the Board at Seaman Corporation and an avid tennis player decided to fill the need with a brand new tennis facility; the Aspen Racquet Club broke ground in August 2017. Situated on six acres, boasting six-courts, a workout room, well-appointed locker rooms and pro shop, this state-of-the-art facility opened its doors in January 2018. It features ReboundAce playing surfaces with foam layers between the asphalt base and the painted top coat to offer less stress on knees and hips during play.
Seaman Corporation, located next to the Aspen Racquet Club, is a world leader of innovative, high performance coated fabrics in a number of markets including roofing membranes, architectural structures, geomembrane liners, truck tarps, military fabrics, and precast concrete. The Aspen Racquet Club features several products manufactured by Seaman Corporation.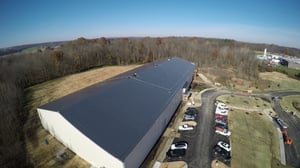 A FiberTite® Roofing System, by Seaman Corporation, protects the 48,000 square-foot club. The patented Simulated Metal Roofing System comprised of FiberTite's proprietary KEE roofing membrane is installed over the roof deck. Aesthetic profiles simulating an architectural roofing system are installed directly on the membrane giving it the look of metal with the protection of FiberTite. This tougher, lighter and more flexible single-ply roofing membrane has been protecting buildings for more than 35 years.
Seaman Corporation fabric was also used for the back-drop curtains and the wall padding around the courts. Outside, the Flex-Shade structures that line the front sidewalk area are made with Seaman Corporation Shelter-Rite® Architectural Fabric. As the leader in the industry in modern materials and methods, Shelter-Rite has been producing high performance architectural fabrics for over 40 years.
Seaman Corporation has historically been involved in the tennis industry. It provides fabric for tennis curtains and outdoor windscreen. The company has been the major supplier of the fabrics used for air supported structures, commonly called "bubbles," that are utilized for indoor tennis facilities. Aspen Racquet Club's new facility is a standard metal structure, and utilizes solar energy panels on the roof to power the facility.
For more information on Aspen, visit www.arcwooster.com.