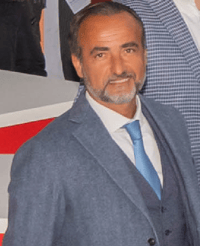 Wooster, OH [April 14, 2020] – Seaman Corporation, a world leader of innovative, high performance coated fabrics is pleased to announce Paolo Giugliano Auricchio, Founder & Partner of Sync-1 Consulting & Procurement Agency, located in Germany will be representing Shelter-Rite® Architectural Fabrics in European and Middle Eastern Markets.
Beginning in 1994, Paolo grew his career with leading companies in the field of tensile structures construction in the positions of manufacture and installation manager, project leader and area sales executive. Since 2008, he has been aligned with European based fabric producers as a tensile architecture product manager and became a Segment Leader for Lightweight Architecture application. In 2017, Paolo achieved his Archineer®h.c. degree and collaborates with the IMS Bauhaus® Institutes e.V. at Anhalt University of Applied Sciences as Marketing and Representatives Executive Advisor, Latin America. He has been recognized as an expert consultant and participates in worldwide symposiums to spread his knowledge across the industry.
Sync-1 offers 25 years of expertise and passion in the tensile architecture industry. Adding Shelter-Rite Architectural Fabrics to their superior range of specific services and quality products for this industry will boost the Seaman Corporation brand in the markets abroad and allow Sync-1 to advise about a range of high-performance materials with unique performance. To learn more about Sync-1, visit them online at www.Sync-1.com
Seaman Corporation's leadership in the Architectural Fabrics Market dates back to the mid-1950s. Shelter-Rite® Architectural Fabrics have been the material of choice of architects, designers, and fabricators for commercial and military projects in the United States and throughout the world.
Headquartered in Wooster, Ohio, with additional manufacturing in Bristol, Tennessee, Seaman Corporation is known worldwide for the production of high value, high-performance fabrics; including FiberTite® Roofing Systems, Shelter-Rite® Architectural Fabrics available in customized colors, XR® Geomembranes, Shelter-Lite® Truck Tarps, as well as collapsible fuel tanks and tent materials for military and government applications.
###