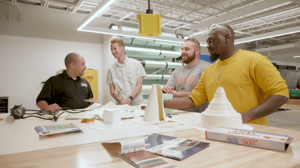 Wooster, OH – Established in 1949, Seaman Corporation is a world leader of innovative, high performance coated fabrics. Headquartered in Wooster, Ohio, with additional manufacturing in Bristol, Tennessee, Seaman Corporation was recently named one of the top companies to work for in Ohio by Comparably.

Comparably is a platform that provides culture and compensation data for public and private companies. In their recent evaluation of company culture in Ohio, Seaman Corporation ranked in the top 9 overall. These scores are attained through associate surveys. Other notable companies receiving this recognition include White Castle, Progressive Insurance and Nationwide Children's Hospital.
Seaman Corporation launched a "Work Where You're Celebrated" employer brand in 2019. "We've spent the last year investing in a strong employer brand that represents our culture," said Anna Gluck, Vice-President of Human Resources at Seaman Corporation. "To be recognized as a top company to work for in Ohio is amazing and reflects the culmination of our ongoing efforts in attracting and retaining great talent. We strive to do more, and our Human Resources team is working diligently every single day on initiatives and efforts that align to our strategy of attracting, retaining, and developing great talent."
The addition of a flexible work policy and volunteer time off program are among some of the benefits that support the culture at Seaman Corporation. Anna is pleased with this recognition by Comparably and states, "We treat our associates well and I'm honored to see Seaman Corporation recognized as a great place to work."
Previously Seaman Corporation was recognized by Comparably as having the Best CEO in 2019. Seaman is a family owned business known worldwide for the production of high value, high-performance fabrics including FiberTite® Roofing Systems, Shelter-Rite® Architectural Fabrics, XR® Geomembranes, and Shelter-Lite® Truck Tarps, as well as collapsible fuel tanks and tent materials for military and government applications.