Wooste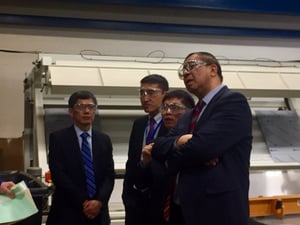 r, OH [February 2019] - Seaman Corporation welcomed International visitors from China. Mr. Dongqing Zhu, the CEO & Secretary General of the China National Building Waterproof Association, and Mr. Zhiyuan Zhu, the Deputy General Manager of the China Building Material Test and Certification. We were pleased to host these guests and teach them more about the global reach of our business.
As we continue to create awareness of our brands around the world, FiberTite will once again be exhibiting at the 2019 China International Roofing & Waterproofing Expo May 28–30 at the Shenzhen Convention & Exhibition Center.
Since 1949, Seaman Corporation has aimed to become a key player in a competitive global market by providing innovative solutions for tomorrow's high-performance industrial fabric needs. The company's attendance at the International Waterproofing Forum proves just that.
Headquartered in Wooster, Ohio, with additional manufacturing in Bristol, Tennessee, Seaman Corporation is known worldwide for the production of high-value, high-performance fabrics, including Shelter-Rite Architectural Fabrics, as well as products for roofing systems, military applications, geomembranes, truck tarps, precast concrete, inflatable boats and other products.