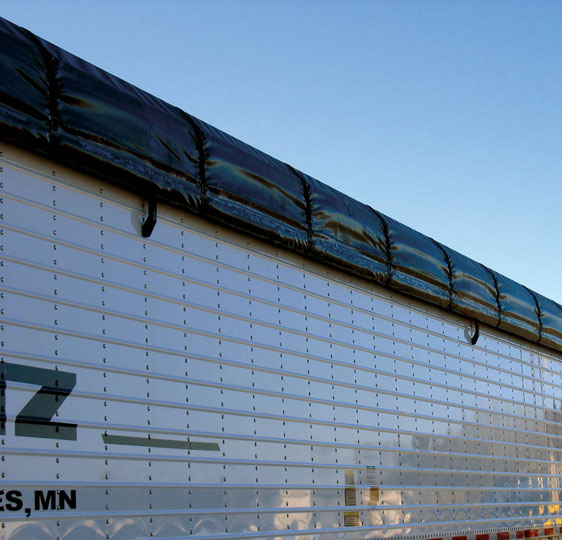 Tarp manufacturers stay up to date with the needs of the transportation industry.
Seaman Corporation Truck Tarps were recently featured in Specialty Fabrics Magazine. An excerpt:
Richard Cossette, owner and president of T.R.S. Industries Inc. in Fargo, N.D., expanded his company's fabric offerings after one of its regular customers—a hauler of multiple food-grade products—requested a more slippery fabric for a roll tarp.

"They spent a lot of money washing tarps that were hard to clean because products were sticking to the fabric," Cossette says. In conjunction with Seaman Corp., T.R.S. Industries came up with a solution called Supreme Clean: an 18-ounce, vinyl-coated nylon with an acrylic lacquer coating.

"The material we are hauling doesn't stick to the tarp, so it's a lot easier to clean," says the client, Ken Foltz, co-owner of Foltz Trucking. "It saves us time and you don't have the possibility of cross-contamination. And because they are thicker, they will have more longevity than normal tarps."

After a little more than a year of using Supreme Clean tarps on 35 trailers in its fleet, the Detroit Lakes, Minn.-based company has ordered another 50 for new hopper-bottom trailers, even though the cost is about 10 percent higher than the price for tarps it previously bought.

"We feel, for the long run and everyday use, it's worth the extra upfront cost," Foltz says.

To read the complete article, click here.