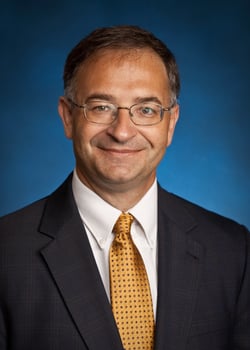 WOOSTER, Ohio [December 9, 2015] – Seaman Corporation, a global leader in the development of coated fabric technology, is pleased to announce the promotion of John Crum from President and Chief Operating Officer to Chief Executive Officer and President, effective December 9, 2015.
Prior to being named President and COO in 2014, John served as Co-President, Executive Vice President, and Vice President of Operations in his 18 years of service. He has been an Officer of the company since 2001.
After over 35 years serving as President and CEO, and the last five as CEO and Chairman, Richard Seaman will retire as CEO, but will remain in his role as Chairman of the Board of Directors.
"Richard and I have worked closely over the past 5 years to make sure this transition is as seamless as possible for our customers and associates," said Crum. "As the future CEO of Seaman, I plan to continue to passionately carry out the Seaman Corporation legacy of providing the highest performance industrial fabrics and high performance roofing systems for our customers, meeting or exceeding their expectations."
Seaman Corporation was founded in 1949 by Norman Seaman, who served as President for almost 30 years. Richard Seaman, Norman's son, joined the company in 1960, working for the company in his high school and college years, later serving as plant manager and VP of manufacturing until 1976, when he was promoted to President.
As a second generation family leader, Richard Seaman has guided the company through significant growth, including a headquarter move and renovation, significant investments in equipment, and sales growth.
"John has been involved in all areas of the business and understands our technology, our customers and our associates," said Richard Seaman, the company's Chairman and Chief Executive Officer. "I am confident that John's leadership style is in alignment with and effectively supports the Seaman culture, which will help us to be responsive to our current business opportunities and challenges."
Crum joined Seaman Corporation in 1997 with 12 years' experience in manufacturing management and manufacturing engineering, earlier holding the position of Operations Manager for Cooper Industries. He first became a corporate officer of Seaman Corporation in 2000, when he was promoted from Plant Manager to Vice President of Operations.
"John understands the importance of family business, is committed to the family business philosophy, stewardship of family business and committed to continuing growth of the family business," said Seaman.
Headquartered in Wooster, Ohio, with additional manufacturing in Bristol, Tennessee, Seaman Corporation is known worldwide for the production of high value, high-performance fabrics including FiberTite as well as products for military applications, architectural structures, geomembranes, truck tarps, inflatable boats and other products. For more information about Seaman Corporation, call (800) 927-8578 or visit www.seamancorp.com.