High Performance Coated Fabric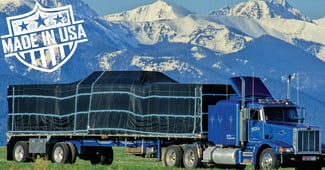 Shelter-Rite® coated fabrics protect assets through superior design, engineering and manufacturing.
With a proven track record of over 60 years, the end user can expect:
Superior Abrasion
Excellent Wind Whip Resistance
Long-term Weather Stability
Technical Support
DID YOU KNOW.....
Abrasion is a leading factor that causes wear and premature failure of your tarp


Download a competitive comparison
of Shelter-Rite 18 oz. coated tarpaulin against offshore
tarpaulin fabric demonstrating Shelter-Rite's longer wear and superior wind whip 'cracking' resistance.
With two manufacturing facilities in the U.S.A., we offer a broad product line that can be customized to your specific tarpaulin needs.
Weight
Color
Width
Low Temperature (-60°F)

Base Cloth (nylon, polyester)
Flame Resistance
Ease of Fabrication
On-site Product Support
Product Options
Seaman Corporation's Shelter-Rite fabrics offer the broadest range of performance options in the industry. Choose from our light but durable 10 ounce fabrics, or our heavy-duty 22 ounce styles. All styles come in polyester or nylon and all deliver high performance results. Choose from the following list to receive technical product data for each of our Shelter-Rite truck tarp styles. This data is provided to assist you in deciding which material is right for your needs.
*As about our other fabric offerings
See How Shelter-Rite Saves Money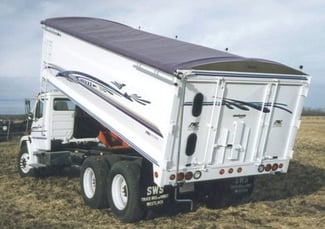 Tarp Life Calculator

Complete the inquiry below to receive our tarp life calculator and
see for yourself how much Shelter-Rite saves you over the life of the tarp.
Request Tarp Life Calculator
Lightweight Truck Tarp Fabric
Shelter-Rite 3213 lightweight truck tarp fabric is a 13 oz. fabric that performs like our 18 oz.
Lightweight: 28% lighter than our original 18 oz. fabric
Remains flexible in lower temperatures
Excellent wind whip resistance
20 lbs. less to handle than a standard tarp
Lower long-term cost
Made in the USA
Superior performance vs. the competitor's 18 oz. fabric
Retractable Truck Tarp Fabric
The retractable tarp is a derivative of over 65 years of innovation and manufacturing technology of architectural and tarpaulin fabrics.
Contact us to discuss your needs for retractable truck tarp fabric or other customized applications.
---
Gallery
(click to enlarge)
---
Resources
Shelter-Rite® Retractable Truck Tarp (pdf)

The February 2017 issue of Specialty Fabrics Review magazine featured an article about increasing demands for truck covers and tarps that offer weather protection and driver convenience. "More Than Covered", by Maura Keller takes a closer look at the manufacturers and specialty fabric suppliers in this growing industry. The article highlights products from several manufacturers. Learn more.